Independence Of The Seas, July 07, 2019
Booking form with provided ID doesn't exist.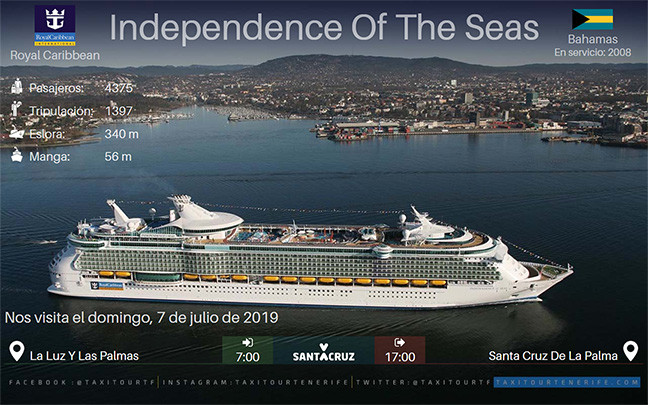 On July 7, 2019 at 7:00 AM, the Independence Of The Seas docks in Santa Cruz de Tenerife, from Las Palmas de Gran Canaria and departs at 5:00 PM to Santa Cruz de la Palma.
Book your TAXI and enjoy one of the different Tourist Routes in Tenerife that we offer. Know the Journey, Time and Price with our Online Booking System.
Independence of the Seas is a ship of the Royal Caribbean cruise line, which entered service in April 2008. It has 15 decks, can accommodate 4,370 passengers and has a crew of 1,360 people. It was built in the shipyard Aker Finnyards Turku, Finland, builder of his brothers Freedom of the Seas and the Liberty of the Seas. Next to Liberty of the Seas and Freedom of the Seas were the largest cruise ships and passenger ships in the world. The cruise is 1,112 feet (339 m) in length, and reaches a speed of 21.6 knots (40.0 km / h, 24.9 mph).
______
June 1st 2023, Thursday
Make your TAXI reservation in advance for your next Tourist Route through Tenerife. We will confirm the RESERVATION, a 10% deposit is required and pay the rest at the end of the contracted route.
In our Online Booking System indicate the place of collection and destination, date and time, complete the online booking form and you can see the route, time and estimated price.
A professional service, with a price never higher than the taximeter, official rates, direct contact with the taxi driver, without intermediaries, we do not pay commissions to agencies, hotels, commercials, etc.